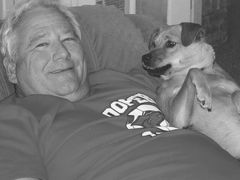 I do not know if cats go to heaven, but I know one that came from heaven.  Two days after Randy's funeral I was sitting in my family room, which was no longer a family room, because the head of our family was gone. I told my loved ones that I would get 10 cats and dogs and pour myself into that life.  This is a good example of why you don't want to make any major decisions while deep in grief.  The next day Justin, our oldest son who was much too young to have lost his father, was sitting on the front patio and a beautiful, long haired, male kitten walked up to him from out of no where.  Justin opened the door and said, "Mom you have a cat" and the little cat walked right to me even though many were in the room.  Immediately I had the thought is this Randy reincarnated as a cat?  Remember, the shock, trauma, grief and stress I was under is indescribable so I am not taking responsibility for my thoughts.  But I picked up that sweet cat and we bonded immediately.   He was so friendly and in my mind it was not a coincidence that he had long gray and white hair and so did Randy.  We (the group that had gathered around to show love in amazing ways) debated and were distracted from terrible pain by picking a name for the cat.  One of my practical friends said that cat belongs to someone!  She wanted me to look for the owner.  I said, "My husband is dead, I am keeping the cat."  I was also a proud owner of a little dog that would not leave me alone, but followed me everywhere sensing I was in trouble. She was named Bagel.  So sticking with the carbohydrate theme we picked Strudel.  Strudel proudly brought me gifts frequently and as much as I hate bird parts in my house a part of me thought of how Randy would bring me flowers and perfume and random gifts just because he loved me. 
The first cat that Randy and I had together he got me for my 23rd birthday, 10 months after we were married, 27 years earlier.   He was a white, longhaired, beautiful, and extremely smart cat that we named Herzog after Whitey Herzog because then we were naming our cats based on appearance.  Randy said and meant it that we would practice parenting on the cats and master that before we had kids.  It would be four more years before Justin was born, possibly because of one memorable trip.  We loved Herzog and even gave him his own room in our little two-bedroom apartment in Topeka, Kansas.  Randy taught him tricks and he was a happy indoor cat.  We were leaving for a week and I asked Randy to ask his co-worker to cat sit while we were gone.  He asked me to ask my co-worker and we figured one of them would do it.  In the rush of getting ready and working crazy hours and being young and stupid we left town.   A week later we came home to a very lonely and hungry cat.  He had plenty of water from the toilet, but that was it.  We felt horrible and doubled down on our parenting skills.  I can tell you for sure we never forgot to feed or care for our sons thanks in part to Herzog.
The next cat we had came to us after we moved to Lubbock.  It was a female, white short hair that we got from our neighbors that no longer wanted her.  We named her Betty White and called her Betty.  She was timid, a true scaredy cat, but we loved her and tried to make her believe in herself. 
Once we were hiking in a state park about an hour from our house when we came upon a beautiful, wild, very hungry gray shorthaired female cat.  We fed it and went home.  However, Randy could not help but think of this cat all alone in the wilderness.  The next day he took off work and drove back and it took him hours to find her and capture her, but he did.  We named her Jennifer Gray and called her Jenny.  Jenny never really could be tamed, but everyone that saw her commented on what a beautiful cat she was.
Shortly after we moved to Abilene, Randy noticed a small gray striped cat walking on the median of a busy street.  He stopped and rescued him because he was worried he could be run over.  The little kitten was in horrible shape with fleas and was malnourished.  He took him right to the vet to be cared for and then he took him home.  We named him Bob Cat because he looked like a bobcat and we called him Bob.
There is nothing like a baby to displace a cherished pet.  Randy's babies and their welfare and their happiness became the center of his universe from the moment he was a father.  He was 32 and ready.  However, the heart just expands as love increases because he did not stop loving animals and nature.  Even though the Air Force taught him to be an expert marksman and he loved to target shoot he had no interest in hunting and never owned a gun.  He had many friends that were hunters and respected them, but he could not intentionally kill an animal.  Once a friend asked him to come to his land and hunt.  He worried over that decision because he loved the outdoors and wanted to, but in the end he went only with a camera and had a great day.  He was a man's man, athletic and adventuresome.  He was brave and honest.  Once we were dozing on the coach and we both woke up suddenly because we heard the front screen door open and in a second Randy jumped over the coffee table and ran to the door to protect me from the intruder.  It was the cat, but I fell in love with him again for the millionth time. 
His love for all God's creatures did not stop with pets, but to my horror extended to rodents.  We lived on a creek and frequently would see rats scurry under the deck.  I hate rats and I am not ashamed to admit it.  As much as he loved me he would not set poison out for them.  He caught them live put them in the back of the suburban (in a cage) and drove them to the wilderness.  He would then report to me how many rats he saved and saved me from. 
As the boys and cats got older the boys (not the cats) lobbied for a dog.  We promised them a dog on the condition that Randy could pick it out and we all went to the pound to rescue one.  There were so many cute dogs, but he picked a black lab foaming at the mouth.  Really? But he knew that Sage (she came with her name if you're wondering she was not green) would turn out to be the best companion.  She was wild, but he trained her, the kids trained her, the professionals trained her and she was well loved.  I then decided Sage needed a friend and Sage and I went to the pound and adopted Bagel.  A sweet, quiet, little girl the opposite of Sage. She got her name because I suggested we call her Basil trying to stick with the herb theme.  Justin said I like the name Bagel, I said Basil, but Bagel stuck.   The eight of us were happy for a time, but Sage was the center of our menagerie.  Eventually it was Randy and Bagel and I left at home, and then just Bagel and I.   
After Strudel the cat adopted me I knew I should get another dog.  Bagel was my constant companion, but she was content to lie in the bed with me as I cried and cried.  My survival instinct told me if I got a young energetic labra doodle it would force me to get up and walk her and care and play with her even if I didn't feel like it.  I rescued a blond female and named her Farfel (named for an Italian pasta) and she got along with Strudel and Bagel.  I rescued her and she helped rescued me.  She was wild and crazy and loved me fiercely.
 About six months after Randy died suddenly without warning, Bagel died also suddenly without warning.  I got up one morning went into the dog room (AKA laundry room) to feed her and she was dead.  She never showed any signs of being sick.  It was all too familiar. 
A few months later my friend brought me a very affectionate terrier mix that we named Pita Chip and called Chip.  We all got along well.  Farfel and Chip became best friends, and Strudel was chased by Farfel and Chip, and Farfel and Chip were teased by Strudel, then we all moved to the "country".  Many times after we arrived here I would watch Strudel play and climb trees and stalk birds and sleep in the warm window seat, and I would think this is truly the perfect life for a cat, and I would think of Randy for the umpteenth time that hour. 
With great loss comes the ability to live in and appreciate every moment because we know all too well it could be gone in an instant.  We also gain the ability to simultaneously think of the past and miss your person with your whole being while loving your people with your whole being.  Randy, like Strudel, had really close to a perfect life.  Randy would credit his life to his family, and I would credit his life to his attitude.  He did what he wanted with a passion and zest and kindness that was unequalled.  Then one day, way too soon, he was gone. 
Several days ago was the last time I saw Strudel.  One minute he was there and then he was gone. We advertised in the lost and found pet section, we searched and asked and hoped.   Logically I know he was probably the victim of a coyote or owl or car.  But I like to think that someone else needed this gift from heaven.   
How long do you keep the cat dish out?  How long do you grieve your husband?  I have thought about these questions deeply and I finally know the answer is as long as you want or need.